Zucchini and Summer Squash Pizza Crust 09-May-2020
The source for this at allrecipes.com is not dairy-free or gluten-free. This version is modified from that source.
Ingredients
4 cups finely shredded zucchini or yellow summer squash (I used one each large zuc and squash)
3/4 cup all-purpose gluten-free flour
3/4 cup cashew parmesean cheese (I use something called "Nooch", but this is farely easy to make)
1/4 cup nutritional yeast
1/2 cup shredded dairy-free cheddar cheese (I used Daiya brand, there's a few good ones out there. You can also use their mozzarella)
2 eggs, beaten
1/2 tsp ground black pepper
salt to taste
Directions
Preheat oven to 350 degrees F (175 degrees C).
You're going to need 2 baking pans, with parchment paper lining for both of them.
Once zucchini or summer squash has been shredded (I recommend a food processor) lightly salt the zuch+squash and transfer it to a strainer. Let stand 15 to 30 minutes and press all remaining liquid out of squash.
In a medium-sized mixing bowl, combine zuch+squash, flour, cashew cheese, dairy-free cheddar cheese, eggs, pepper and salt. Mix well.
Spread the mixture into a baking sheet covered with parchment paper.
Bake for 25 minutes in the preheated oven.
Remove the crust from the oven and change the oven's temperature to broil. Brush the top of the crust with oil, and then broil the crust for 7 to 10 minutes until the top is lightly browned.
Allow the crust to cool slightly and slide spatula underneath all edges and under the middle. Place a larger, parchment-lined, baking pan over the top of the crust and gently flip the crust over so that the bottom of the crust is now facing upwards. (I laid the parchment sheet on top, then put the baking sheet on top of that to make things a little easier.)
Brush the top of the crust with oil and broil for another 7 to 10 minutes until the top is browned.
Cover with toppings as desired, such as veggies, more dairy-free cheese, etc. I put a light layer of tomato / spaghetti sauce, sliced onions, turkey pepperoni, and dairy-free shredded cheese.
Return to broiler for about 10-15 minutes.
Remove pizza and transfer to a cutting board. Let rest for 10 minutes, cut into squares. Mine made 6 square slices, and was good for 3 servings.
Notes
Prep time: 30 minutes, or more if draining takes longer
Cooking time: 35 minutes
Servings: makes 6 good sized slices
Calories: who knows??
The original recipe said this would take about an hour to cook. I found I had to extend the broiling times from 5 minutes to 10 minutes, even though I had moved the rack up near the broiler.
If you're going to put a sauce on, do make sure to do the extra broiling to make the top crispier, and don't pile on the sauce: keep it a thin, even coating
This really is an awesome crust recipe, better than cauliflower crusts, or other sorts of GF crusts I've tried. This makes a chewy, delicious, faccacia type crust
I may have forgotten that I added some other spice things to crust to make it more interesting. I've been using paprika a lot this way. Also quite likely I dumped in some oregano and basil, it'd probably be great with some garlic powder / onion powder, too. Or maybe even fresh minced garlic.
Pictures
I'm not a food photographer, these are just snaps from the phone.
raw crust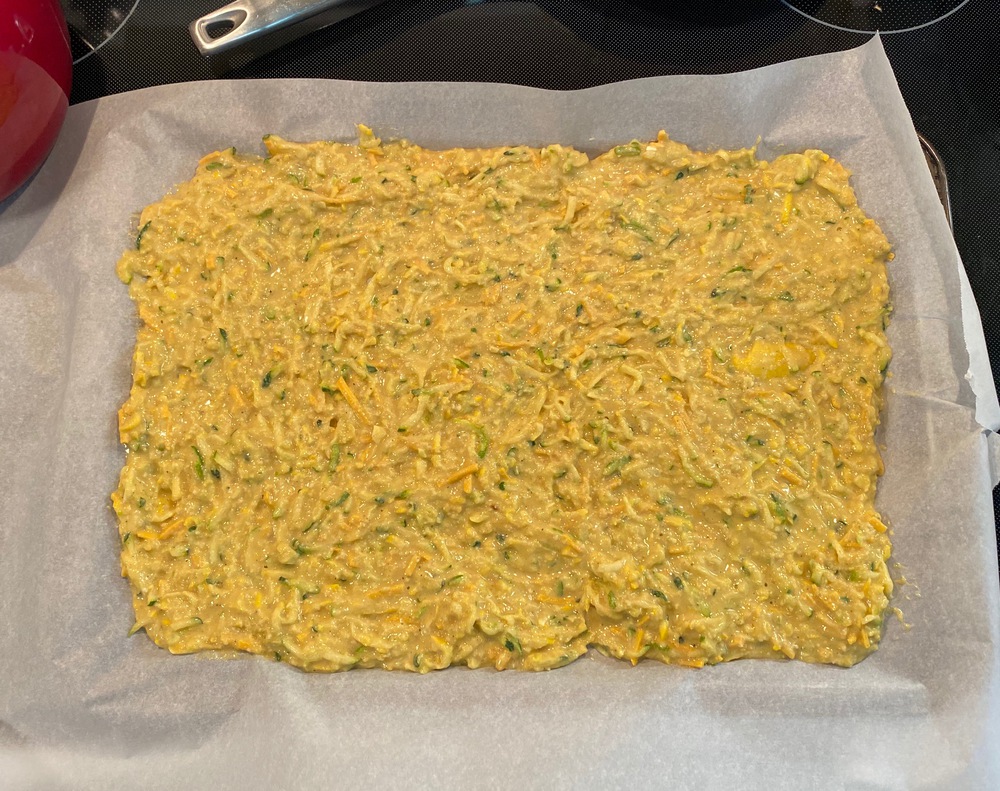 flipped
After I flipped it over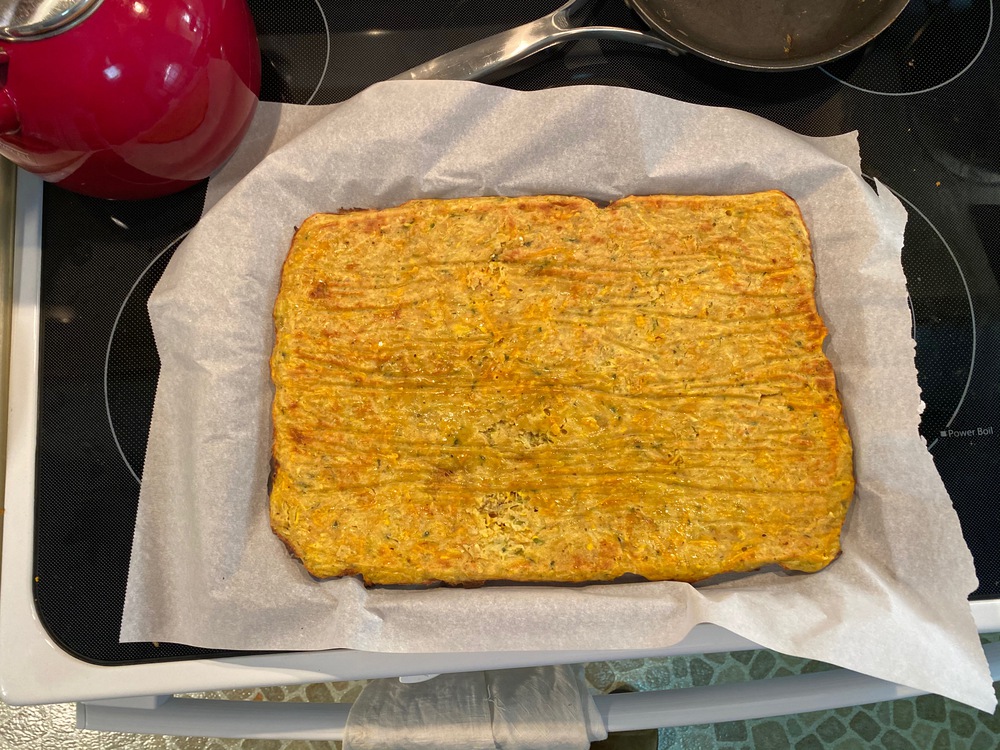 top-broiled
Ready for toppings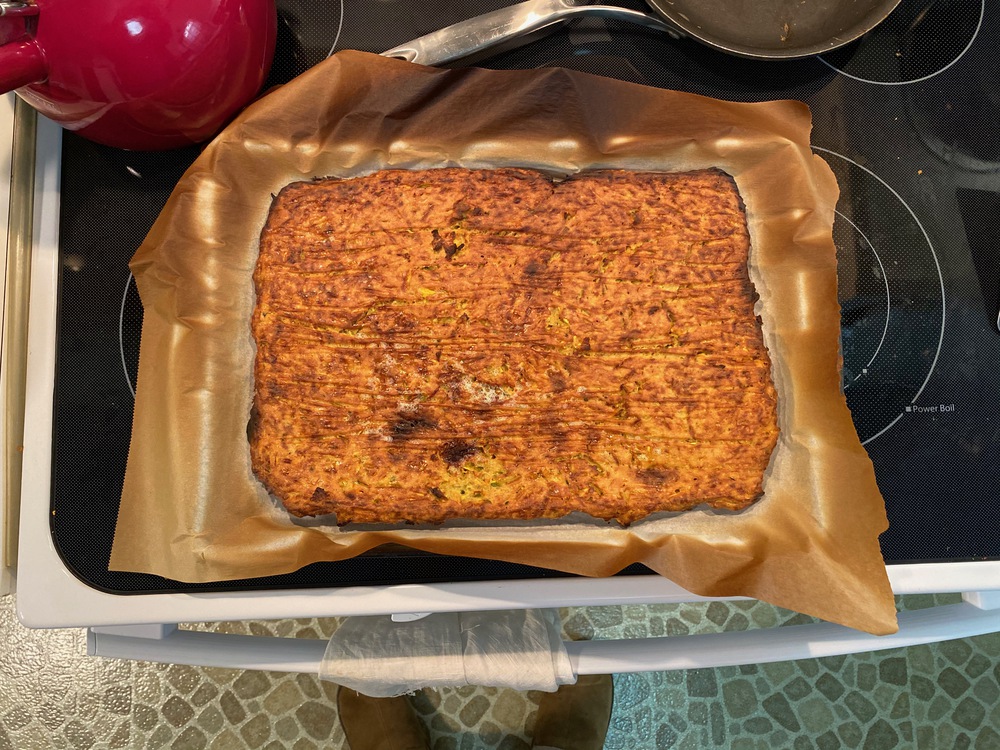 smothered in toppings